We are expecting Bolognese and Maltese puppies during the Spring/Summer of 2023.
If you are interested, please send us an email.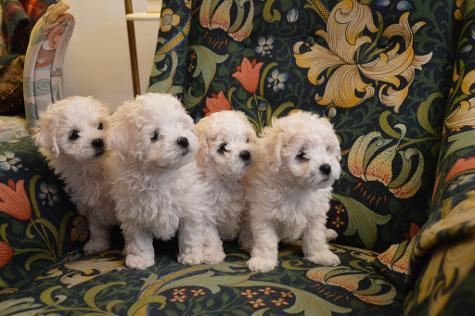 "The only love that money can buy."
What do we expect from you if you buy a puppy from us?
Well, nothing and everything.
We expect you to buy a life companion that you will love unconditionally.
Just because we enjoy showing our dogs doesn't mean we expect you to share our interest. We would much rather know that our puppies get to have a wonderful home life!
Dog shows aren't for every person and it isn't for every dog either.
But, if you are interested in showing or any other dog sport for that matter, please let us know and we will try to find you the best puppy for this purpose!
We have had puppy buyers in the past who have been very successful with their dogs in obedience, agility and freestyle (dancing with dogs)!
And you know what? Their dogs loved it!
But you know what all our puppies have in common?
They will love to spend time with you, both out in the garden, but also, on the sofa infront of the tv.