About Fredrika:
I live together with my husband Tomas, who is a surgeon, in Karlstad which is situated half way between Stockholm and Oslo. Our three children are more or less grown up by now. Working part time as a doctor (I am a GP working with Occupational Health) leaves me the time needed to indulge in what has been my hobby since my early teens; dogs, dogs and dogs! I am interested in most fields connected with man's best friend; breeding, showing, training etc. In my youth I kept Labradors and field trialled my dogs as well as showed them. I served in the committees of several breed and speciality clubs. When our children were small I was not so active with my dogs. Over the years we kept a few Smooth Haired Foxterriers, an Alsatian, a Malinois, a Border Terrier and a Curly Coated Retriever. Most of these dogs were shown and/or trained and won titles but I only had the odd Labrador litter and a fellow breeder leased the Fox terriers for breeding. I never bred anything from the others. It is however very educational to keep dogs from different breeds ! In 1998 when I met the first lagottos brought to Sweden by my friend Renée Sporre Willes I was fascinated by their looks, origins and versatility. I had the advantage to obtain a bitch from one of the first litters in Sweden. Through my acquaintance with Renée I receivedinvaluable guidance. In a few years the breed became very popular in Sweden and we pioneered the breed club together with some other early enthusiasts. I was the club's vice chairman for five years and in charge of the club's breeding committee for the same period. When our daughter was 4 years old she asked to have a dog that she could manage to handle. The choice was a bolognese- a breed that I have followed since the first specimen came to Sweden. It proved to be an excellent choice! I have by now bred 16 litters of happy, loved bolognese and many of my Hunky-Dory bolognese are champions in several countries. I have dogs from Italy, Slovakia and Czechia. I am very fortunate to have become a friend of well-known Italian bolognese breeder Maria Luisa Friggi! Apart from all help I have received from her when it comes to learning about the breed and getting the right dogs for breeding it has been absolutely lovely experience o have her and her gentlemanly husband Massimo as friends! Just imagine the food and wine they have invited us to share in their wonderful home!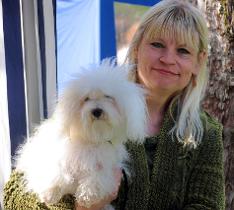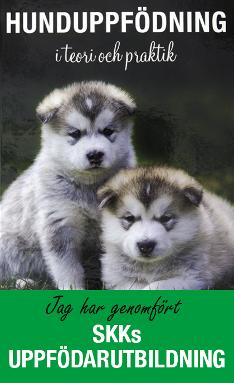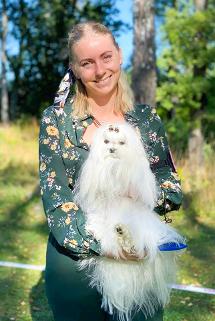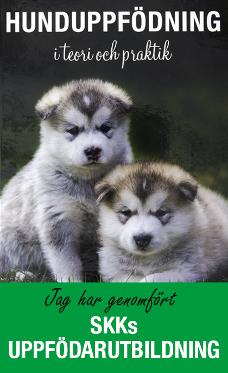 About Lotten:
Hi everyone,
My name is Lotten and I have the great pleasure of having been raised in a puppy play pen (literally, my mum thought it was the best solution to keep me in the pen and the dogs could roam free).
I got my first own dog when I was 4 years old, a Bolognese bitch by the name of Chantli's No One Sparkling Joy or "Spooky" as we called her in the family. She became the foundation bitch of our Bolognese breeding.
In my teens I competed in the dog sport called Junior Handling, it is a competition where youths try to show dogs (both their own and others) to their best abilities. To really push myself in this endeavour I got a Standard Poodle named Ninihill's What Limited Edition or "Leif" as he was known to friends and family. He became my faithful companion and absolutely loved living in a pack of "white fluffs".
I'm sort of responsible for bringing the Maltese into the Kennel as well. But that's a story for another time...
Having gone to a High School specialized in dog sports with extra courses in breeding and genetics I later moved onto Uppsala University where I finished my Bachelor degree in Political Science specializing in Crisis Management on a global vs a local level.
I'm currently on the board of the Swedish Maltese Club as their secretary and well as head of the Swedish Dog Youth Organization (Sveriges Hundungdoms) Handling Committee. Previously I have also been involved with and on the board of the Swedish Toy Dog Club.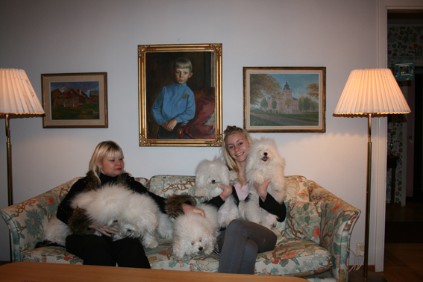 Fredrika, Lotten and some very happy Bolognese
A couple of years back we were interviewed by the Japanese Magazine "Happy Trimmer", you can download our interview here: