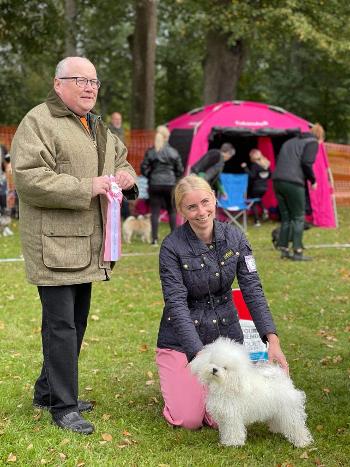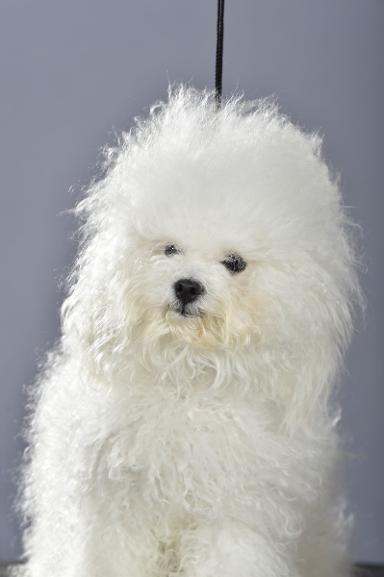 GROUP WINNER at Gimo INTERNATIONAL DOG SHOW
BEST IN SHOW 4 at Gimo INTERNATIONAL DOG SHOW
SPECIALITY BEST IN SHOW
SPECIALITY BEST IN SHOW JUNIOR
NORWEGIAN WINNER 2021
NORWEGIAN JUNIOR WINNER 2021
NORDIC WINNER 2021
NORDIC JUNIOR WINNER 2021
DANISH WINNER 2021
HELSINKI JUNIOR WINNER 2021
FINNISH WINNER 2021
FINNISH JUNIOR WINNER 2021
No 1 Bolognese in Sweden 2021
No 1 Bolognese in Denmark 2021
Multiple BOBs in Sweden, Denmark, Norway and Finland from Junior Class.
NOJW-21 NOW-21 NORDJW-21 NORDW-21 DKW-21 HELJW-21 FINJW-21 FINW-21
Hunky-Dory Who Are You "Whoopi"
Oh Whoopi, the clown of our pack. Always happy and always up to mischief.
Starting her career with a bang in 2021 she won every major title she went after as well as becoming the most winning Bolognese in both Sweden and Denmark. With her personality shining through, she loves being in the show ring, because that's where she gets to meet new friends!
One of the highlights of the 2021 season was definitely Whoopis group win at Gimo International Dog Show from Junior Class. At this show she ended up as BEST IN SHOW 4 judged by Moa Persson, Sweden.