About Fredrika
I live together with my husband Tomas, who is a surgeon, in Karlstad which is situated half way between Stockholm and Oslo. Our three children are more or less grown up by now. The eldest , Axel is for the time being serving in Nordic Battle Group, our second son, Olle, is doing his military service and our daughter, Lotten is at a Boarding School where there are also classes in different kinds of canine topics as well as training classes for agility, free-style etc. (www.forshagaakademin.se).
Working part time as a doctor (I am a GP working with Occupational Health) leaves me the time needed to indulge in what has been my hobby since my early teens; dogs, dogs and dogs! I am interested in most fields connected with man's best friend; breeding, showing, training etc.
In my youth I kept Labradors and fieldtrialled my dogs as well as showed them. I served in the committees of several breed and speciality clubs.
When our children were small I was not so active with my dogs. Over the years we kept a few Smooth Haired Foxterriers, an Alsatian, a Malinois, a Border Terrier and a Curly Coated Retriever. Most of these dogs were shown and/or trained and won titles but I only had the odd Labrador litter and a fellow breeder leased the Fox terriers for breeding. I never bred anything from the others. It is however very educational to keep dogs from different breeds !
In 1998 when I met the first lagottos brought to Sweden by my friend Renée Sporre Willes I was fascinated by their looks, origins and versatility. I had the advantage to obtain a bitch from one of the first litters in Sweden. Through my acquaintance with Renée I receivedinvaluable guidance. In a few years the breed became very popular in Sweden and we pioneered the breed club together with some other early enthusiasts. I was the club's vice chairman for five years and in charge of the club's breeding committee for the same period.
When our daughter was 4 years old she asked to have a dog that she could manage to handle. The choice was a bolognese- a breed that I have followed since the first specimen came to Sweden. It proved to be an excellent choice! I have by now bred 16 litters of happy, loved bolognese and many of my Hunky-Dory bolognese are champions in several countries. I have dogs from Italy, Slovakia and Czechia. I am very fortunate to have become a friend of well-known Italian bolognesebreeder Maria Luisa Friggi! Apart from all help I have received from her when it comes to learning about the breed and getting the right dogs for breeding it has been absolutelu lovely eperience o hav eher and her gentlemanly husband Massimo as friends! Just imagine the food and wine they have invited us to share in their wonderful home!
About Lotten:
Coming soon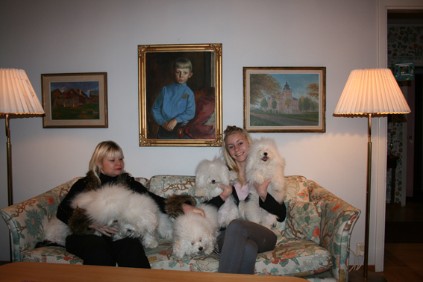 Fredrika and Lotten and a couple of (very) happy Bolognese.
A couple of year back we were interviewed for a japanese magazine, you can download the PDF-file for it here: